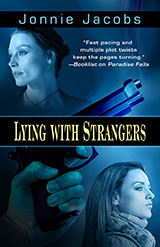 "Lying With Strangers" by Jonnie Jacobs. After Diana Walker's husband is killed in a robbery, she finds out that she knows very little about his real life. She meets a new friend who helps her through the tragedy only to find that her friend also isn't who she pretends to be. Jacobs writes a couple of mystery series, but this is a stand-alone novel.
"A Dark and Stormy Knit" by Anne Canadeo. This is the sixth book in the Black Sheep Knitting mystery series. The Black Sheep Knitters are five friends who meet once a week to share friendship, gossip, and knitting tips in Plum Harbor, Massachusetts. Their curiosity and natural detective skills often land them in the middle of murder.
Other Mysterious Things to Come
:
Each year there are many fantastic mysteries to look forward to and 2014 looks like no exception. No one wants to miss Jonathan Kellerman's new Alex Delaware book coming in February called "Killer." I am also looking forward to C. S. Harris' new Sebastian St. Cyr mystery called "Why Kings Confess" which comes out in March. March should also bring Harlan Coben's new stand-alone novel called "Missing You." David Baldacci is supposed to put out another Will Robie mystery in April called "The Target." Watch out in May for John Sandford's new Lucas Davenport book "Field of Prey." We have to wait all the way until July for David Rosenfelt's 12th Andy Carpenter book "Hounded."
This month in addition to all the books I have already mentioned, Irish writer Cora Harrison's 10th book in the Burren historical mystery series is coming out ("The Cross of Vengeance"). "My Lady Judge" was the first book in this Celtic historical crime series. Also of interest this month is
"Finders Keepers Losers Weepers" by Robert S. Levinson, a hard-boiled mystery about survival in the music business in 1989.